Plum Crumble Cake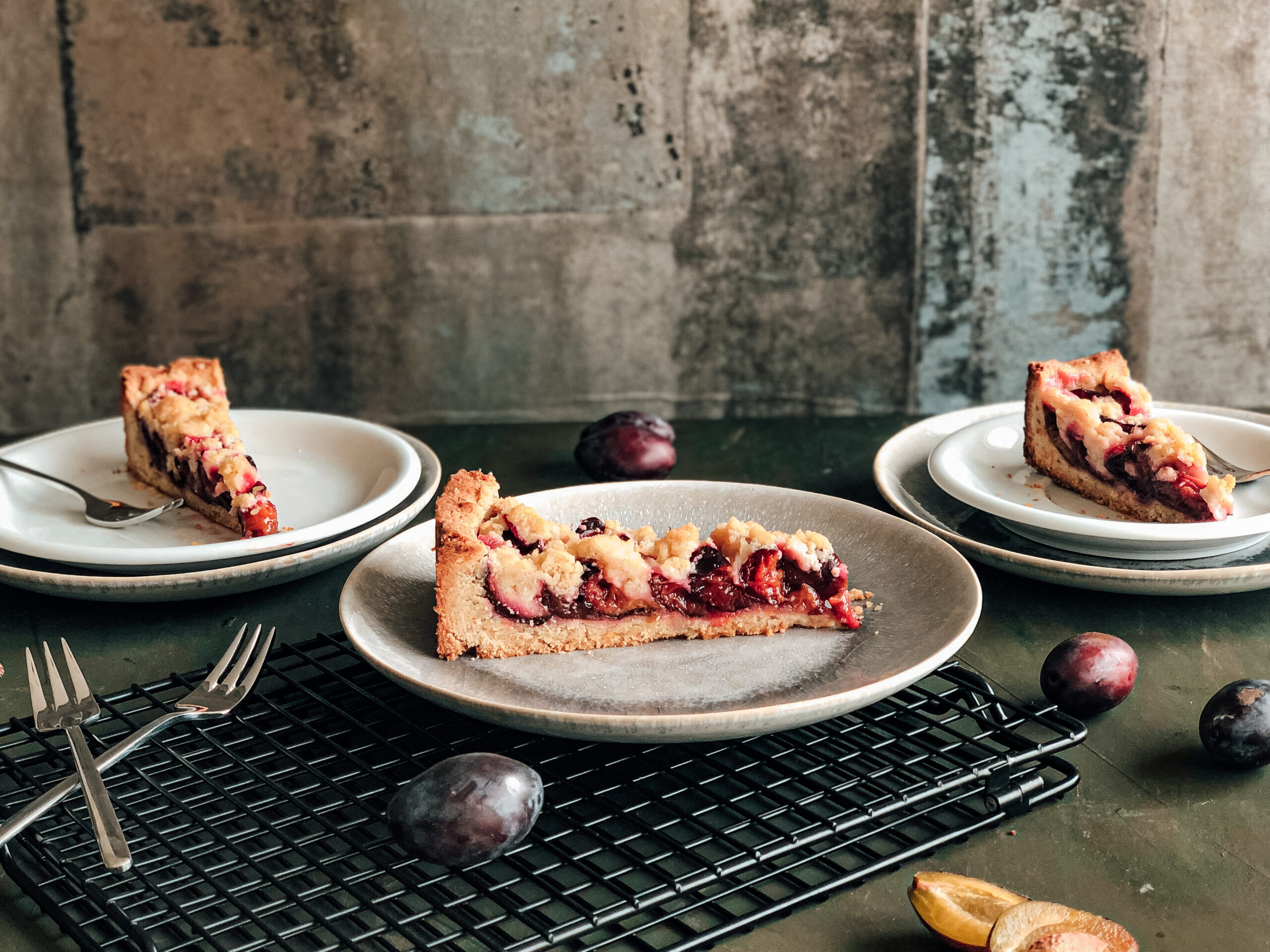 Fall is here and now completely – with the good and bad sides! We have been enjoying the beautiful weather but at the moment it is raining again – perfect for an cozy afternoon at home with some coffee and some selfmade cake! Maybe a PLUM SHORTCRUST CAKE?
For us, fall is a special time of the year. You are starting to spend more time inside and you got time for things that you haven't done in the summer. It is also a time to relax and awesome holidays are coming up like Halloween, Thanksgiving and then Christmas. And all of those holidays include FOOD and just so much AMAZING FOOD! Maybe you are looking for an easy and amazing recipe with plums, that are so typical for this season, for one of the holidays? Then this is just perfect for you!
Fall also offers so many yummy fruit and vegetables that you can only get during that time of the year or that can be stored but were just harvested. Amazing examples are plums which have just the perfect taste – a mix between sweet and sour! Maybe you haven't noticed but for me this is all I need in a fruit!!! But there are also other great vegetables like carrots, spinach, cabbage and so much more.
Anyways let's get back to the sweet things in life, in particularly this PLUM shortcrust pastry! The recipe is so easy, so just take a little time and try something new and you will be so happy about the results.
One last tip regarding the PLUM CRUMBLE CAKE: It will taste even better on the second day as the shortcrust gets a little softer by then. So if you are planning to make it for a special occasion, maybe you wil make it a day before which will give you even more time to prepare on the next day.
So here is the RECIPE and it is VEGAN!!!
Plum Crumble Cake
Zwetschgenkuchen mit Mürbteig und Streuseln
Ingredients
Shortcrust
120

g

flour

120

g

shredded nuts

(I use hazelnuts but almonds will be fine too!)

160

g

vegan butter

(cold)

60-70

g

sugar

cold water

(if necessary)
Crumble topping
150

g

flour

100

g

vegan butter

70

g

sugar

½

tsp

vanilla sugar

1

tsp

cinnamon
Instructions
Cut the cold butter in small pieces. Then add all other ingredients for the shortcrusts and knead them with your hands to a smooth dough. If necessary, you can add some cold water for the right texture.

Place the dough in plastic wrap in the fridge and let it cool for at least an hour.

During this time wash the plums and core them. I usually use as many plums as fit on the cake. So depending on how you like it best use more or less than 500 g of plums.

Now add all the ingredients for the crumble topping together until you get the wanted texture.

Preheat the oven to 180 degrees Celsius (Ober-/Unterhitze).

Coat a baking tray with butter and flour.

After the shortcrust dough has cooled down, roll it out and use a fork to prick into the dough.

Now arrange the plums as you want and place the crumbles on top.

Bake the cake for 50-60 minutes.

Now you just need to wait until it is cooled down and then enjoy!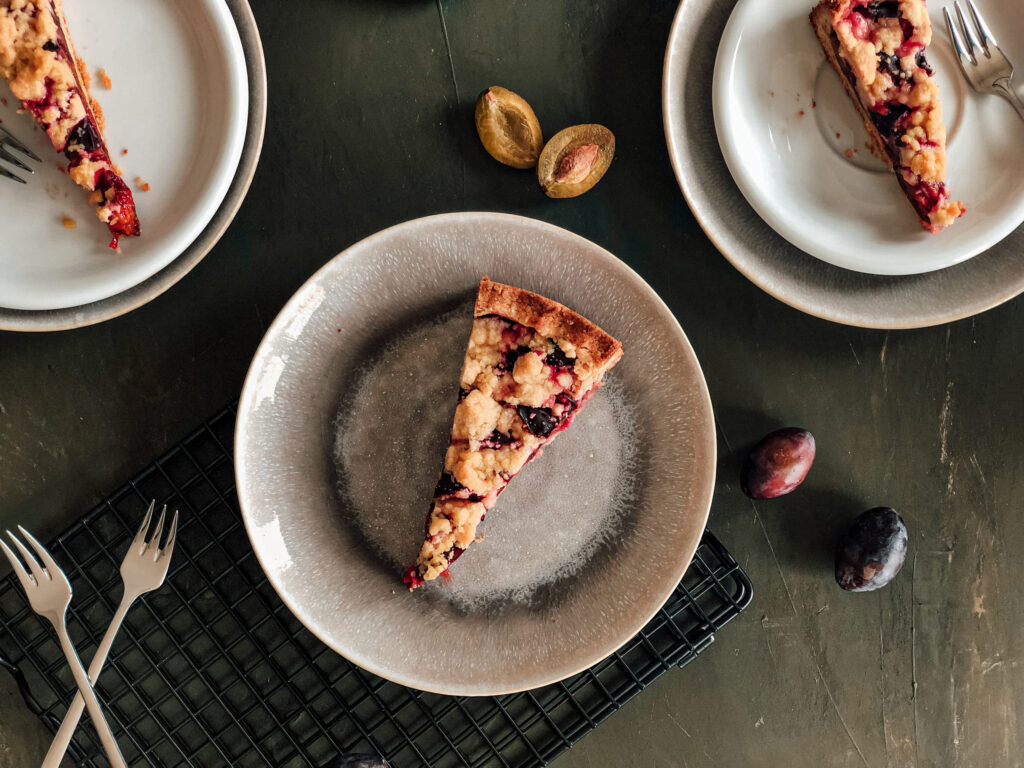 Did you give this recipe a try? If so, we would love to get some feedback from you! Just comment below, we really would appreciate your opinion. And if you took some pictures, just tag us on Instagram.
---
---